Glacier peak holistics purity from the earth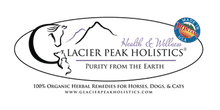 GiGi's Pet Market is proud to carry Glacier Peak Holistics in Jupiter, Florida. Glacier Peak Holistics (GPH) synergistically blends our herbal and holistic products to help you give your dog, cat, or horse a more balanced quality of life without compromising their longevity. We use 100% organic ingredients that have been used throughout history for effective herbal medicine. With the focus on wellness and prevention, these herbal formulas are for those seeking a more holistic way to care for their pets. We work with many alternative/integrative veterinarians around the U.S. who can be found near you with our Professional Practice locator. GPH offers our Comfort Care System that includes Inflapotion and HerbAprin. Both contain herbs that have been used for generations for pain, swelling and stiffness. This System also includes our Mountain Salve for external skin issues and minor wound care.
Dog Product
Inflapotion Powder for Dogs
Glacier Peak Gold
GPH Daily Defense Powder for Dogs
Pet Wellness Life Stress Scan
Inflapotion Capsules
Colloidal Silver
HerbAprin Capsules
Mountain Salve
Pro-Bio by Enzymedica ~ Daily Probiotic
Cat Product
Peak Immune For Cats
GPH Daily Defense Powder for Cats
Inflapotion Powder for Cats
Pawgest Digestive Enzymes
Dump-a-Lump ~ Helpful to lumps, bumps, warts, cysts, and tumors
Gut Sooth by Adored Beast
Horse Product
Equine Wellness Life Stress Scan
GPH Daily Defense Powder for Horses
HerbAprin Powder for Horses
Inflapotion Powder For Horses
Super Cleanse 2# Horse Pouch
Come visit our pet supply store in Jupiter, FL specializing in quality food, treats, and supplies for cats and dogs.